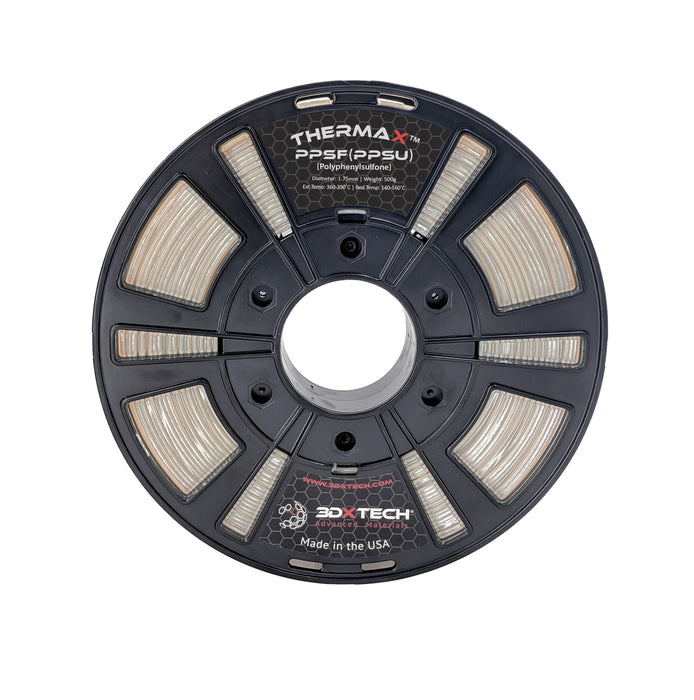 ThermaX™ PPSF (PPSU) 3D Printing Filament (Aerospace, Industrial) ( NZ Stock)
Sale
Sale
Original price
$76.00
-
Original price
$76.00
Availability:
Only 4 left!
ThermaX™ PPSF (PPSU) 3D Printing Filament
Polyphenylsulfone (PPSF or PPSU) is a high-temperature aromatic sulfone polymer.  Long considered to be one of the highest performance polymers in the plastics world.  PPSF has excellent thermal and chemical resistance, making it well suited for demanding applications in automotive, aerospace, electronics, defense, industrial, medical, semi-con applications.   
ThermaX™ is 3DXTECH's brand of high-temperature polymers designed specifically for 3D printing the highest performance parts possible.  PPSU is sold using names such as Solvay's Radel R and BASF's Ultrason P.  
PRICE SAVING in bulk - We can do bulk packs in 5 or 10, please

 

email us

 

for a quote
Attributes of Polyphenylsulfone PPSF (PPSU) include:
Very high thermal properties with a Tg of 220

°C and 

HDT of 205°C
Excellent hydrolytic resistance
High Environmental Stress Crack Resistance (ESCR)
Outstanding impact resistance
Highly resistant to gamma radiation - even in large doses (10 Mrd)
Sterilization capable - including 

EtO gas, radiation, steam autoclaving, plasma, dry heat and cold sterilization.

Resists most common automotive fluids, including gasoline, antifreeze, transmission fluid, motor oil, power steering fluid, windshield washer fluid (ESCR, 24hrs, 100°C)

Inherently flame retardant with low smoke evolution and low smoke toxicity
Excellent dimensional stability (low creep sensitivity and low, uniform coefficient of thermal expansion) and highly reproducible part-to-part dimensions
Exceptional strength and modulus, even at elevated temperatures
Filament Specifications:
Diameter:  1.75mm (+/- 0.05mm)
Density:  1.29g/cm3
Colour: Black only
Recommended Print Conditions: (starting points)
Extruder Temp: 360 - 390°C (all-metal extruder)
Bed Temp: 140-160°C
Bed Prep: Ultem® Tape, Polyimide Tape, Lightly sanded FR4 or Perf board.
Other:  No cooling fan, Print speeds of 1000mm/min (starting point).  We recommend printing within a heated enclosure or in a warm build environment.  
Drying Instructions:  Please see the following instructions for when you want to dry out this filament.