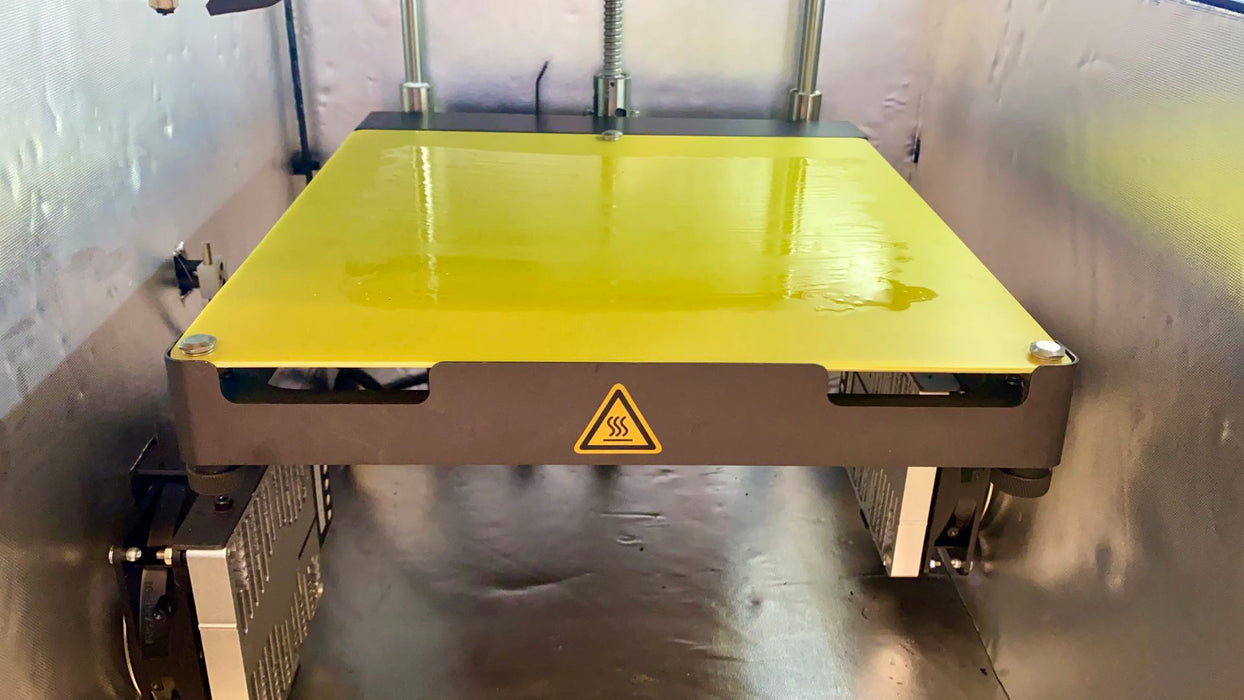 Garolite 11 flex build plate
Sale
Sale
Original price
$43.00
-
Original price
$110.00
The Best Build Surface for Printing
all filaments

including Nylons, ABS, ASA, PETG and high temperature PEEK, PEKK, PPSU and PEI !

NEW:

G11 Replacement for F430 Creatbot beds, Garolite G11 bed with chamfer, 500 x 320 x 3mm with 10mm chamfer

Our Formtech Garolite 11 Build Plate is the perfect solution for hard to stick filaments such as nylon PA6 and PA12 as well as high temp filaments. 
Rated to 200deg C
G10 is NOT rated above 100deg consistently. 
Affordable compared to carbon fiber. 
High print finish surface
flexible for print removal, 3mm thick. 
Does not effect heating performance your bed heater.
Also compatible with common filaments like PLA, PETG, and TPU and most general filaments.
3mm thick and just able to flex for print removal.
NOTE: G11 beds do need bed adhesive to stick the print to G11 beds, Works best with Magigoo specific to your printing needs. More here:  https://www.formtech.co.nz/products/garolite-11-build-plate
Replace your build plate for these printers:
220x220: Anet A8, Wanhao Dup 6, Dup i3, i3 Plus, Ultimaker 1/2/3, Cocoon Touch, MonoPrice Select Plus
235x235:
Creality Ender 3/4/5, Creality CR-20/CR-20 Pro, Geeetech A10 Series (all), Artillery Genius, 
Prusa MK3 and MK3S
310x310:
Artillery Sidewinder X1, Creality CR-10/CR-10S, Folger Tech FT5, Tevo Black Widow, JG Aurora A5 Series, Wanhao D9(300), Creality CR-10S Pro, CR-X, CR-10 V2 
350x350: Ender 5 Plus
500x350: F430 Creatbot direct replacement with 10mm corner radius
400x400
: Ender 3 
extender kit 400
NEW:
Custom F430 Creatbot Garolite G11 beds with corner radius, 500 x 320 x 3mm with 10mm chamfer
NOTE:
If there is a size you need and its not here on the list please email us as we can get cut to size on request.
Mine is 480x390 for high temp beds. Email me jason@formtech.co.nz

**Chart is for reference only.
We recommend measuring your build surface before ordering
Please note you do not need to heat your bed for nylon to stick to Garolite.
Note: Build plate only, you may need to drill appropriate mounting holes or use bulldog clips for securing.
MAINTENANCE
Wipe the print surface before and after a print with isopropyl alcohol to maintain a clean surface.
Clean off PVA glue or Magigoo with warm water. If the print surface becomes damaged, it is recommended that users lightly sand with 220 grit sandpaper or a scotch bright pad. It is best to sand the entire plate evenly to avoid creating low spots. Avoid inhaling dust particles from sanding by wearing a respirator mask.