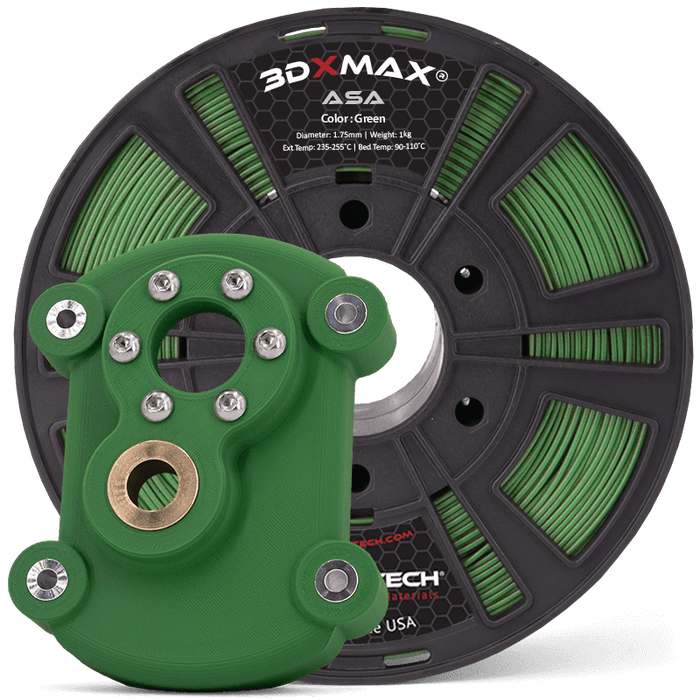 3DXMAX® ASA HIGH QUALITY( NZ Stock)
Sale
Sale
Original price
$85.00
-
Original price
$85.00
3DXMAX® ASA (Acrylonitirle Styrene Acrylate) is a UV-resistant weatherable polymer.  
Our ASA has a low-gloss matte finish that makes it a perfect filament for technical prints - especially when you don't want the high-gloss surface finish often associated with many other 3D printing materials such as ABS, PETG, or PLA.  
ASA's UV-stability makes it an ideal material for outdoor applications that will experience intense exposure to the sun and weather.  
ASA's exceptional mechanical and thermal properties - coupled with excellent UV-stability - is why this resin is used the Auto, Marine, and RV industries for exterior applications such as mirror housings, cowl covers, radiator grills, and sensor housings. 
UV-Stable + Low-gloss = Great Looking Technical Parts!

The colour range we stock in New Zealand is as per the 5 colours you see in the selection, BUT we can pick and mix if you are ordering 5 rolls and I can get whats in the picture below if you need from the USA.
Diameter Specifications:
Recommended Print Conditions:
Extruder Temp:  235 - 255°C
Bed Temp:  90-110°C, cool the bed down by about 10-20°C after the first couple of layers
Bed Prep:  Magigoo Original 50ml/120ml
Enclosure:   We recommend using a printer with an enclosure to help keep some heat in while printing with ASA
Support:  Our Aquatek water soluble support works great to create complex parts.  
Drying Instructions:  Please see the following instructions for when you want to dry out this filament.