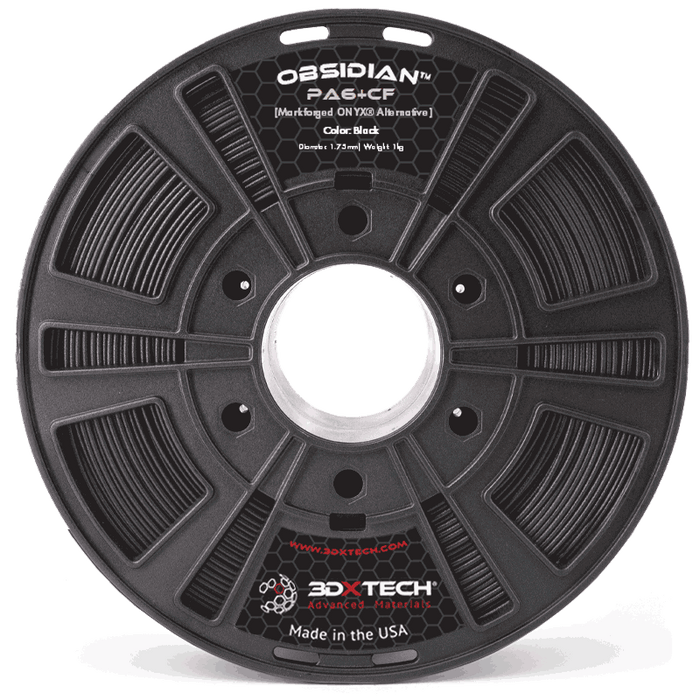 OBSIDIAN PA6+CF [MARKFORGED ONYX ALTERNATIVE] 1Kg 1.75mm rolls
Original price
$173.00
-
Original price
$173.00
Obsidian™ PA6+CF filament was formulated to be a lower-cost drop-in Markforged Onyx

1kg of Obsidian vs 750g Markforged Onyx
Alternative to ONYX suitable for all Markforged printers.
IMPORTANT: 3DXTech recommend to dry this filament on 1st use as it can be very hydroscopic even if new.
Drying Instructions: 90°C for 4 hours if the filament exhibits signs of moisture
We developed this material after extensive analysis and testing on our own in-house Markforged printer and many outside beta testers.
The result is a seamless printing experience that produces parts with an outstanding appearance and excellent mechanical properties.
Made using premium high-modulus carbon fiber and PA6 copolymer, Obsidian™ is an excellent alternative to Onyx™ that allows our customers to save money when using your Markforged printer.
Don't have a Markforged printer? That's no problem – Obsidian™ is also compatible with all non-Markforged printers that are suitable for printing PA6+CF. 
Take advantage of the excellent strength, stiffness, and appearance of this specialty material without over spending on Markforged Onyx™.
 Technical data sheet for this product here
Benefits of Obsidian™ PA6+CF [Markforged Onyx Alternative]:
Drop-in for Onyx™ without any changes required to print settings
>30% savings vs. Markforged Onyx™
Excellent strength and stiffness
Resistant to aliphatic hydrocarbons (oil/gas/lubricants)
Superior dimensional stability (low warp/shrink/CTE)
Compatible with Markforged FX20, X7, X5, X3, Mark Two, Onyx Pro, and Onyx One printers
Filament Specifications:
Diameter:  1.75mm +/- 0.05mm
1000g rolls in BLACK only
Print Recommendations:
Obsidian™ was formulated to be a drop-in for Onyx™ without any changes to the print settings.
3DXTech Recommended Print Settings for Non-Markforged Printers:
Formtech's Settings for what I have tweaked for my machines ( Non MF)
Extruder : 280

°C

- I run hot and seems to work very well
Bed: run at 110

°C- Once again stops any lift off and keeps plastic under control

Brim: YES, helps with warping later on 10mm brim 1st layer
Perimeter walls 3min and top and bottom 4 min
Magigoo PA ( Nylon) on clean well washed G11 bed

Chamber warm but not hot, ambient temp from the bed
Drying Instructions: 90°C for 4 hours if the filament exhibits signs of moisture