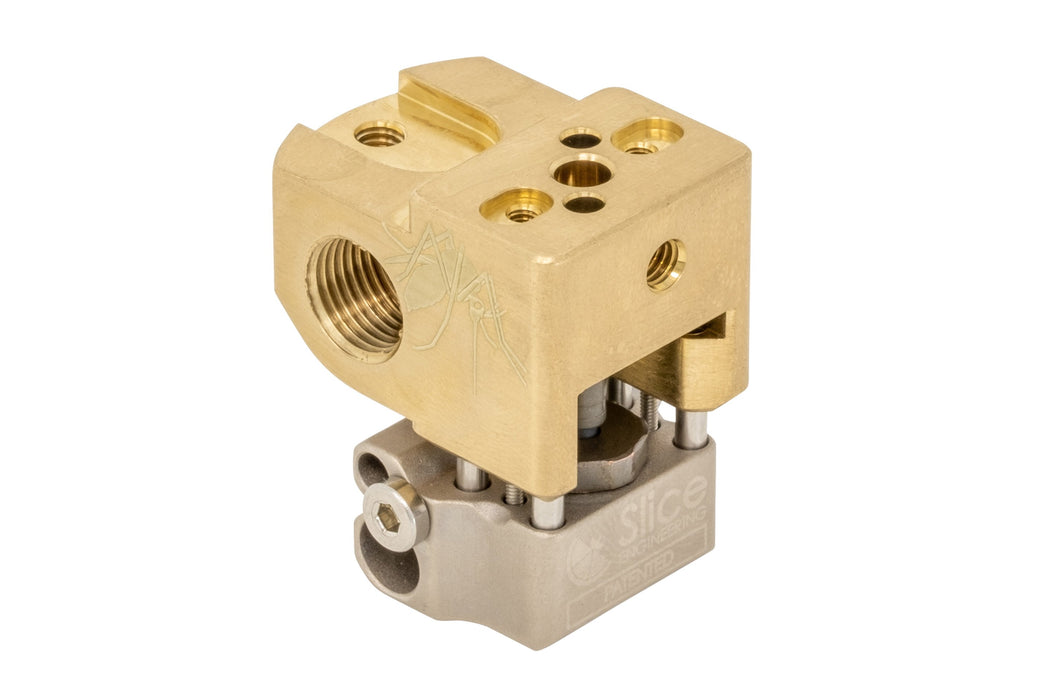 The Mosquito™ Liquid Hotend ( Water cooling)
Original price
$203.00
-
Original price
$203.00
Liquid Mosquito
NOTE: These are 5-6 days delivery from the US directly at this stage as production is released.
Behold the Mosquito™ Liquid - it uses the same patented technology found in the standard, air-cooled Mosquito™ hotend, but optimized for liquid cooling in heated enclosures.
Like all of our hotends, Mosquito™ Liquid is completely Made in the USA, out of top end materials. The liquid cooling block is precision machined out of a super conductive copper alloy, and coated with a non-marring, highly inert, gold-colored plating that allows for use with any commercially available coolant. Liquid also features our latest Bimetallic Heat Break™ - the first version to be totally conductively cooled. The hotend is available with or without liquid fittings.

Mosquito™ Liquid optimized for printing high temperature plastics such as PPSU, PEEK and PEKK and all general filaments.
Superior heat break performance - conduct 85% less heat than a standard threaded heat break

Increased structural rigidity

450°C temperature rating covers all printable thermoplastics

Modular/adaptable to almost any FFF/FDM printer

Ideal for multi-extrusion systems

Lightweight
Please NOTE:
Shipping lead times are indented, please allow 6 days from order due to demands and stock levels for this product.
Kit Includes:
Includes:
- Mosquito™ Base Liquid (x1)
- Hot Block Hardware (x1)
- Mosquito™ Heat Break - Conduction (x1)
- Mosquito™ Hot Block (x1)


Notes:
- Comes Fully Assembled
- Lead times should be expected. Orders will be assembled and fulfilled in the order in which they are received.
Needed to buy:
high temp thermistor for the hotend- LINK here
12v or 24v Heater cartridge- LINK here
Water cooling plumbing, hardware, fittings and tube. ( All local NZ stock)
We highly recommend the use of thermal paste with the Mosquito™ to provide good thermal conductivity between the hotend and heater/thermistor.

Downloadable 3D models of the Mosquito Hotend are now available on our Documentation page.

Seasoned hobbyists, innovators, and creators take it in stride when they're struck with a vision of what they could build. Especially when they know that with The Mosquito Hotend™, their 3D printer can deliver the highest resolution and take on engineering-grade plastics that other desktop printers can't come close to. With minimal layer lines and extreme precision, your vision is about to become reality. A beautiful reality.

By engineering-grade plastics, we're talking printing at temperatures up to 450 °C. That means you can print car parts, medical devices, and whatever else you can dream up, and you don't have to buy an over-sized (and overpriced) printer to do the job.

How did Slice Eng accomplish this?

By re-imagining how a hotend is designed and structured from the ground up. The materials in each part of The Mosquito Hotend™ have been hand selected to perform a specific task to optimize your printer's performance with three goals in mind: lightning speed, beautiful resolution, and increased durability.

The Mosquito Hotend™ is adaptable to virtually any printer, so by swapping one component, you gain the high performance benefits of a printer worth thousands more. Since The Mosquito Hotend™ (designed for beauty) and Mosquito Magnum™ (designed for speed) are the same length, any combination of these hotends can be mounted to one carriage. So you can switch between high-flow and high-precision in the same print.

Oh yeah, and you can change the nozzle with one hand.

Are you ready to see your vision fully realized?

The Mosquito Hotend™ is only available for 1.75 mm filament at this time.

ADDITIONAL DETAILS:
Superior heat break performance
- The heat break conducts 85% less heat into the heat sink than a typical threaded heat break
- Steep temperature gradient at the heat break, and high tolerances along the filament path allow for better transmission of fine motor movements, resulting in beautiful, higher resolution prints
- Steep temperature gradient at the heat break reduces the likelihood of jamming
- Reduced heat transmission removes the need for a large heat sink
- Composite construction of the bimetallic heat break™ allows for the use of materials optimized for heat transfer in each section of the heat break
- Allows for hotend to be mounted with a printed, plastic adapter, without raising safety concerns

Increased structural rigidity
- The heat break has been separated from the structural components of the hotend, allowing for a heat break that is not load bearing, and can be very thin walled. This allows for a reliable, rigid exterior structure
- No components are prone to loosening at the mounting points
- Nozzles can be changed with one hand, without grasping the hot block
- In the case of a severe crash, an entirely new hotend is not necessary, parts can be easily swapped out

Larger temperature operating range
- Specially-engineered high temperature copper alloy in the hot block will not soften at high temperatures in excess of 550C.
- Threads in the hot block will not deform at high temps, allowing removal of nozzles even after multiple high temp heat cycles
- Nickel plating on the hot block reduces radiative heat loss and prevents galling of threads

Modular/adaptable to almost any FFF/FDM printer
- Compact, flat, ambidextrous form factor
- 5 different hole mounting patterns to allow for adaptation to virtually any printer
- Printable adapters can be created to diversify mounting options

Ideal for multiple extrusion systems
- Small form factor and light mass allows for back-to-back mounting with small nozzle-nozzle distance

Lightweight
- Small mass allows for more rapid motion
- Less reinforcement needed for the motors, belts, and drives in the motion system