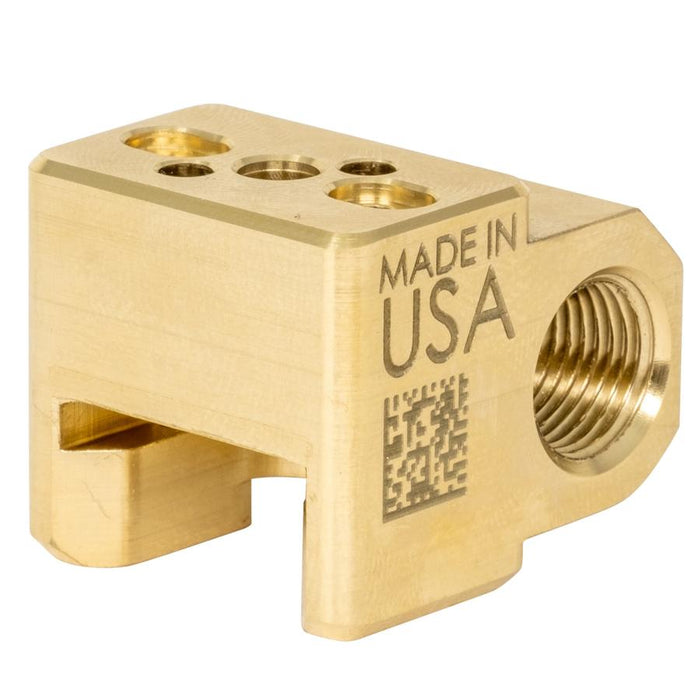 The Mosquito™ Liquid Block ( Water cooling head)
Original price
$89.00
-
Original price
$89.00
Availability:
Only 2 left!
 Liquid Mosquito block
NOTE: These are 5-6 days delivery from the US directly at this stage as production is released.
Fits the standard mosquito or mosquito +
Behold the Mosquito™ Liquid - it uses the same patented technology found in the standard, air-cooled Mosquito™ hotend, but optimized for liquid cooling in heated enclosures.
Like all of our hotends, Mosquito™ Liquid is completely Made in the USA, out of top end materials. The liquid cooling block is precision machined out of a super conductive copper alloy, and coated with a non-marring, highly inert, gold-colored plating that allows for use with any commercially available coolant.  The hotend is available with or without liquid fittings.

Mosquito™ Liquid optimized for printing high temperature plastics such as PPSU, PEEK and PEKK and all general filaments.
Superior heat break performance - conduct 85% less heat than a standard threaded heat break

Increased structural rigidity

450°C temperature rating covers all printable thermoplastics

Modular/adaptable to almost any FFF/FDM printer

Ideal for multi-extrusion systems

Lightweight
Please NOTE:
Shipping lead times are indented, please allow 6 days from order due to demands and stock levels for this product.
Kit Includes:
Includes:
- Mosquito™ Base Liquid block (x1)
- Mounting rods and screws for the connections to your hotend

Needed to buy:

high temp thermistor for the hotend-

 

LINK here
12v or 24v Heater cartridge-

 

LINK here
Hot Block and heatbreak hardware ( sold seperate) 
Water cooling plumbing, hardware, fittings and tube. ( All local NZ stock)
We highly recommend the use of thermal paste with the Mosquito™ to provide good thermal conductivity between the hotend and heater/thermistor.

Downloadable 3D models of the Mosquito Hotend are now available on our Documentation page.