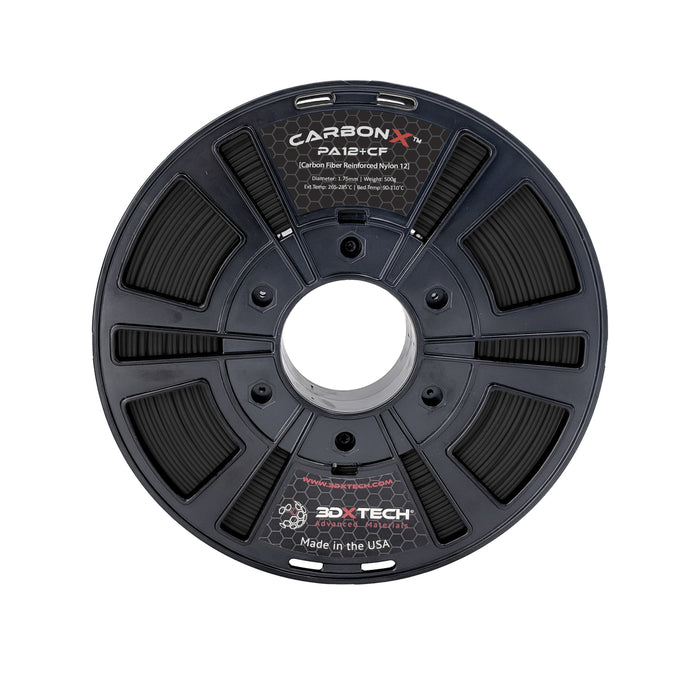 CARBONX™ PA12+CF Reinforced Nylon 12 Filament ( NZ Stock)
Sold out
Original price
$82.00
-
Original price
$82.00
Availability:
Out of stock
CarbonX™ PA12+CF 
PRICE SAVING in bulk - We can do bulk packs in 5 or 10, please

 

email us

 

for a quote
CarbonX™ Carbon Fiber PA12 is made using high-modulus carbon fiber and a specialty Nylon 12 (PA12) that we chose for it's printability, thermal properties, and chemical resistance.   
PA12 reinforced CF nylon is widely used in a variety of industries due to its excellent chemical resistance, low moisture absorption, and wide processing window.  Our formulation ensures very low shrinkage in the printed part resulting in excellent dimensional stability. 
This makes our CF-PA12 an excellent choice for tools, fixtures, and jigs.  
Product Attributes Include:
High thermal properties: 150°C HDT @ 0.45MPa [137°C HDT @ 1.8MPa]
Excellent strength and stiffness over a wide temperature range - up to 150°C
Continuous Use Temp (10,000 Hrs) of 120°C
Very low moisture absorption = improved retention of mechanical properties after exposure to humidity 
Superior chemical resistance compared to PA6 type nylons
Low shrink & warp = excellent dimensional stability 
Low density is ideal for light-weight parts - 1.16g/cc
Recommended Print Conditions:
Extruder:  265-285°C, potentially higher depending on printer
Bed Temp:  90-110°C [heated bed required]
Bed Prep:  G11/PEI and Magigoo PA blend
Nozzle: We currently recommend minimum 0.4mm orifice. 
Layer Height:  Ideal layer height is 60% of nozzle diameter.  We do not recommend printing layers below 0.25mm with carbon fiber grades.  Lower than 0.25mm may create too much back pressure in the hot end and result in poor feeding, jams, drive gear clicking, and eating a notch into the filament.
Support Material:  BVOH found in support filaments
Drying Instructions:  Please see our instructions for when you want to dry out this filament.