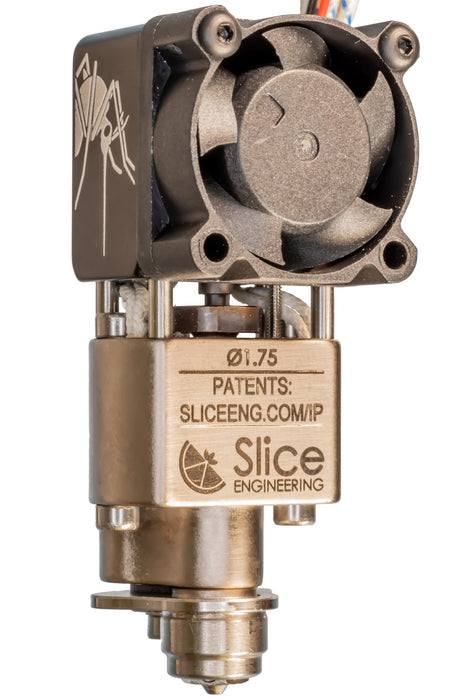 Mosquito® Magnum+ Print Absurdly Fast Hotend 1.75mm
Original price
$290.00
-
Original price
$352.00
MORE THAN A HOTEND, A NEW MODALITY
Mosquito® Magnum+™
Includes all of the industry-leading benefits of the Mosquito® product line, such as Bimetallic Heat Break™ technology, a 500 °C temperature rating, ability to print all filaments from basic PLA to medical-grade PEEK, and the rigid roll cage structure that enables our famous One-Handed Nozzle Change™...
Weight: 188grams with heaters 100w, as per picture on bench
PLEASE READ:
Disclaimer for advanced users and modifications to the existing printer setup at the bottom of this page before purchase of the Magnum + hotend.
Mosquito® Magnum+™
Thermally Optimized:
Filament contacts the hot block directly for maximum heat transfer efficiency

Enhanced structural strength, ideal for large format printers, and non-planar printing

Print PLA up to 88 mm

3

/s and ABS up to 91 mm3/s*

Boost speed without losing resolution† 

Tips the scales at just 30% heavier than a standard Mosquito, but with 3.5x the output
Highly Configurable:
Choose air or liquid cooling options

For 1.75mm filaments

Expandable heater capacity, up to 100W (2x 50W heaters in parallel)

Redundant temperature sensor sockets

*Optional 500 °C-rated nozzle insulator( sold seperate)

Uses standard-length (12.5 mm) Vanadium™ and Bridge master™ or E3D V6 style nozzles for Ø1.75 filament sizes
Included with each hotend (Air cooled):
2x 50W Industrial high temp heaters 24v 450deg rated (*Needs Separate SSR)

Air cooled- 1x 24v 20mm fan
Included with each hotend (Water cooled):
2x 50W Industrial high temp heaters 24v 450deg rated 

(*Needs Separate SSR)

6mm Eisele Water connections for the water jacket to 6mm OD airline pipe.
Optional but not included with hotend:
* Note: 2x50w heaters will need a separate 24v SSR ( solid state relay) to run as 100w at 24v is high current for the printer boards hotend supply. These hotends can also just run one single 50w heater as well.
One of the primary concerns with material extrusion based 3D printing (commonly referred to as FDM or FFF) is speed. While FDM is certainly faster than hand sculpting an object, it is slower than some traditional manufacturing methods on a per part basis. This is especially true for large parts. A large print could take 48 hours or more for a 3D printer to complete, assuming that the print is completed correctly the first time, and no rework is required!

So why is FDM so slow? Answer: flow rate capacity (ability to melt and extrude filament fast enough) and kinematics (physical limitations of machine motion related to the mass of the print head). Previous attempts to overcome these limitations resulted in printing processes that traded quality and resolution for speed. Slice Engineering has eliminated that trade off through design by thermal optimization, simultaneously addressing the issues of flow rate, resolution, and mass.

Since entering the scene in 2018, Slice has led the global FDM industry in hotend technology development with the Mosquito® and Copperhead™ product lines, and we have no plans of slowing down. The newly announced Magnum+™ hotend is the latest extension of the Mosquito product line and is the first hotend designed from the ground up with industrial users and high flow needs in mind. Magnum+ is not just applying DIY techniques to extend the melt zone, but rather the development of an entirely new modality for high speed FDM printing, optimized around the melting characteristics of thermoplastics. 

To put it bluntly, Magnum+ is the highest performing hotend on the market today. Scroll down to learn more about how you can configure your own Magnum+ with a variety of options, download our white paper on flow rate testing, and sign up to be notified when Magnum+ launches.
PLEASE READ
Disclaimer for Advanced users and modifications to the existing printer setup
Mosquito® Magnum+™ Health and Safety Warnings and Release of Liability
General Machining and Fabrication Equipment Safety Warnings
WARNING: Read all safety warnings and all instructions. Failure to follow the warnings and instructions may result in electric shock, fire, and/or serious injury.
SAVE ALL WARNINGS AND INSTRUCTIONS FOR FUTURE REFERENCE.
Work area safety:

Keep the work area clean and well-lit. Cluttered or dark areas invite accidents.
Do not operate 3D printers in explosive atmospheres, such as in the presence of flammable liquids, gases, or dust. 3D printers create heat which may ignite dust or fumes.
Keep children and bystanders away while operating a 3D printer. Distractions can cause you to lose control of the 3D printer.

Electrical safety:

3D printer plugs must match the outlet. Never modify the plug in any way. Do not use any adapter plugs with earthed (grounded) power tools. Unmodified plugs and matching outlets will reduce the risk of electric shock.
Avoid body contact with earthed or grounded surfaces such as pipes, radiators, ranges, and refrigerators. There is an increased risk of electric shock if your body is earthed or grounded.
Do not expose 3D printers to rain or wet conditions. Water entering a 3D printer will increase the risk of electric shock.
Do not abuse the cord. Never use the cord for carrying, pulling or unplugging the 3D printer. Keep the cord away from heat, oil, sharp edges, or moving parts. Damaged or entangled cords increase the risk of electric shock.
When operating a 3D printer with an extension cord, only use cords suitable for the applicable power load. The use of a cord suitable for the applicable power load reduces the risk of electric shock and fire.
If operating a 3D printer in a damp location is unavoidable, use a residual current device (RCD) protected supply. The use of an RCD reduces the risk of electric shock.

Personal safety:

Stay alert, watch what you are doing, and use common sense when operating a 3D printer. Do not use a 3D printer while you are tired or under the influence of drugs, alcohol or medication. A moment of inattention while operating a 3D printer may result in serious personal injury.
Use personal protective equipment. Always wear eye protection. Protective equipment such as dust masks, gloves, or protective clothing appropriate to the conditions will reduce personal injuries.
Prevent unintentional starting. Ensure the switch is in the off-position before connecting to a power source, picking up, or handling components of a 3D printer.
Remove all metal objects, adjusting key or wrench before turning the 3D printer on. A metal object, wrench, or key can conduct electricity as well as heat which may result in personal injury, equipment damage, or fire.
Do not overreach. Keep proper footing and balance at all times. This risks injury in unexpected situations.
Dress properly. Do not wear loose clothing or jewelry. Keep your hair, clothing, and gloves away from moving parts. Loose clothes, jewelry, or long hair can be caught in moving parts.
Devices for the collection and extraction of dust, when connected and properly used, can reduce dust-related hazards.

3D printer use and care:

Do not force the 3D printer to perform beyond its rated power output or temperature capabilities. Use the correct 3D printer for your application. The correct 3D printer will do the job better and safer at the parameters for which it was designed.
Do not use the 3D printer if the power switch does not turn it on and off. Any 3D printer that cannot be controlled with the power switch is dangerous and must be repaired.
Disconnect the plug from the power source before making any adjustments, changing accessories, or storing the 3D printer. Such preventive safety measures reduce the risk of starting the power tool accidentally.
Store idle 3D printers out of the reach of children and do not allow persons unfamiliar with 3D printers or these instructions to operate the power tool. 3D printers are dangerous in the hands of untrained users.
Maintain the 3D printer. Check for misalignment or binding of moving parts, breakage of parts, and any other condition that may affect the 3D printer's operation. If damaged, have the 3D printer repaired before use. Accidents can result from poorly maintained 3D printers.
Use the 3D printer, accessories, and nozzles, etc. in accordance with these instructions, taking into account the working conditions and the work to be performed. Use of the 3D printer for operations different from those intended could result in a hazardous situation.

Service:

Have your 3D printer serviced by a qualified repair person using only identical replacement parts. Doing so will ensure that the safety of the power tool is maintained.
Mosquito® Magnum+™ Safety Warnings
Adherence to Instructions:

This product comes with high-powered electronics. All installation and assembly instructions must be adhered to. 
Installation and assembly instructions can be found at: https://www.sliceengineering.com/pages/magnum-plus-assembly-instructions. 
After reading the instructions, if you are still unsure of how to install and configure the Mosquito® Magnum+™ Hotend correctly, please contact our customer support team. 

Plastic structural components in proximity to the hotend:

When installing the Mosquito® Magnum+™ Hotend in the 50W configuration, or any other Slice Engineering® hotend in a 50W configuration, all plastic structural components used between the hotend and the nearest linear guide rail:

Must be made of a material with a Deflection Temperature at 0.45 MPa (per ISO 75) of at least 90°C
Have solid infill to help dissipate heat
Use solid metal threaded inserts, not helical inserts, where threads are required

Single 50W Heater Installation:

The Mosquito® Magnum+™ Hotend configured with a single 50W heater is suitable for most non-industrial applications when operated by individuals familiar with 3D printer operations.

Dual 50W Heater Installation:

Installation of dual 50W heaters (i.e. 100W of total heating power) into the Mosquito® Magnum+™ Hotend should be performed by a professional 3D printer manufacturer or professional automation engineer.
Electrical current limitations of the 3d printer and its components must not be exceeded
Temperatures can exceed 600°C, which can ignite plastic and cause third-degree burns if touched
Use of attachments between the hotend and guide rail must be composed of metal structures to a metal recirculating ball bearing carriage riding on a metal guide rail.
Metal attachments must be configured such that excess heat generated in a failure scenario involving runaway heating combined with the malfunction of the heatsink fan, temperature sensor, or liquid cooling system can dissipate through the metal structure of said attachments reducing the risk of injury, fire, and damage to the 3D printer.
Attachment by plastic structures is prohibited if dual 50W heaters are installed since plastic restricts the dissipation of heat, may soften and structurally fail, increasing the risk of injury, fire, and damage to the 3D printer.
Implementation of redundant temperature sensors is recommended.
Acceptance of Liability
3D printers are useful machine tools when installed with Slice Engineering® hotends in accordance with proper safety protocols by 3D printer manufacturers and professional automation engineers. The Mosquito® Magnum+™ Hotend, configured with dual 50W heaters is a powerful industrial tool designed for installation and configuration by 3D printer manufacturers and professional automation engineers and is inherently dangerous. By installing and/or operating the Mosquito® Magnum+™ Hotend, you agree to take responsibility for any and all risks associated with the installation and operation of the Mosquito® Magnum+™ Hotend.