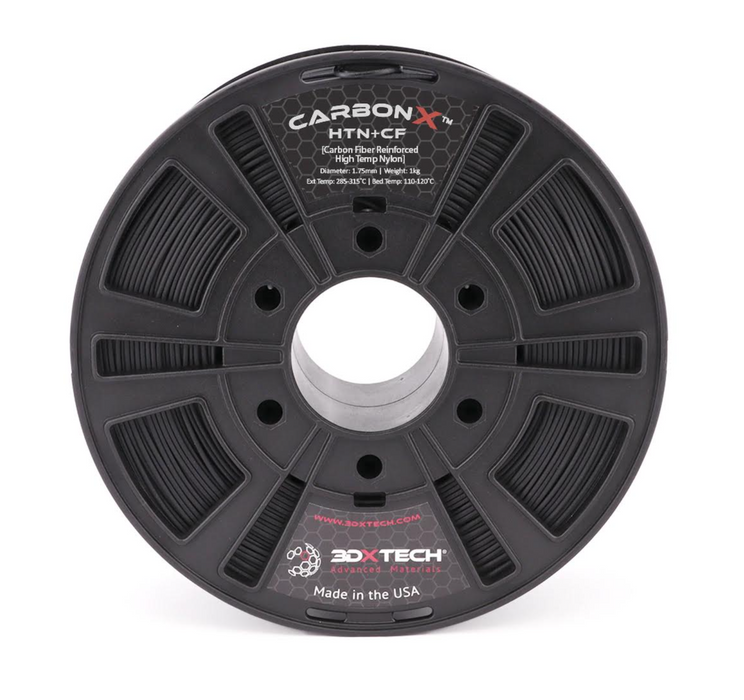 CarbonX™ HTN+CF [High Temperature Nylon] 500g ( NZ Stock)
Sold out
Original price
$177.00
-
Original price
$177.00
Availability:
Out of stock
CarbonX™ CF-HTN is an advanced semi-aromatic polyphthalamide (PPA) reinforced with high-modulus carbon fiber. 
HTN is widely used for metal replacement applications that must resist high mechanical loads at elevated temperatures and aggressive chemical environments. 
HTN has traditionally been a go-to material for demanding applications in automotive, aerospace, oil&gas, electrical, electronics, and industrial markets.  
CarbonX™ HTN+CF Thermal Properties
Glass Transition (Tg) of 125°C 
Melt Temp (Tm) of 260°C 
Heat Deflection Temp (HDT) of 195°C
Product Attributes Include:
Excellent strength and stiffness over a wide temperature range - up to 195°C
Very low moisture absorption yielding improved retention of mechanical properties when exposed to humid environments
Outstanding chemical resistance to alcohols, acids, fuels (auto/jet), oils/lubricants, brake fluid, transmission fluid, antifreeze, and Zn/Ca Chlorides.
Recommended Print Conditions:
Extruder:  285-315°C depending on printer Hotter the better!
Bed Temp:  110 - 120°C
Chamber Temp:  80-120°C.  Although not absolutely required, we recommend printing high-performance materials such as our HTN in a printer with a heated chamber.  
Bed Prep:  PEI (ULTEM) tape applied to the build plate
Hardened Nozzle: 0.4mm or larger.  We strongly recommend our Hardened Steel Nozzles
Layer Height:  Ideal layer height is 60% of nozzle diameter.  We do not recommend printing layers below 0.25mm with carbon fiber grades.  Lower than 0.25mm may create too much back pressure in the hot end and result in poor feeding, jams, drive gear clicking, and eating a notch into the filament.
Printing Experience:  PPA is an e

xpert level material and the us

er should have a significant amount of experience and is using a high-performance or heavily modified printer.