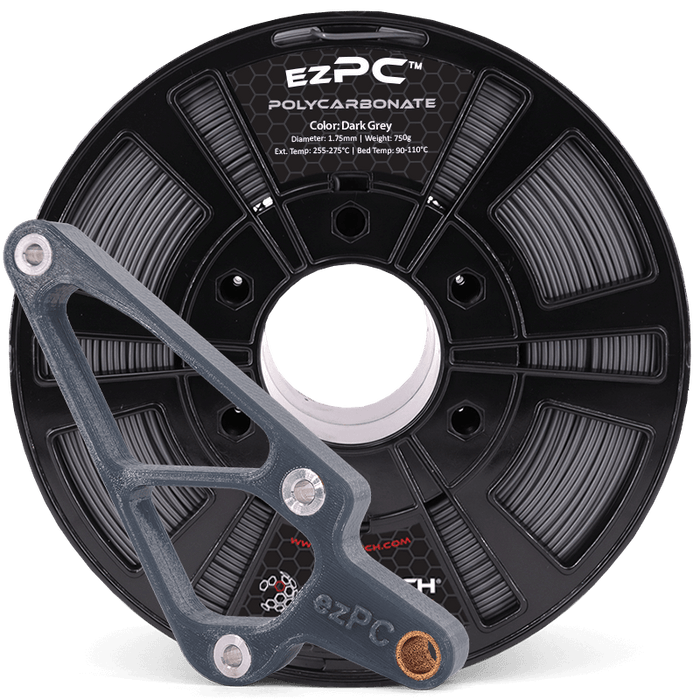 ezPC (POLYCARBONATE) 750g Dark Grey 1.75mm 3DXTech
Original price
$77.00
-
Original price
$77.00
ezPC™ Polycarbonate 3D Printer Filament
We absolutely love printing ezPC™! This polymer was developed specifically for 3D printing functional prototypes and end-use parts. It was formulated to allow for ease of printing coupled with exceptional mechanical and thermal properties.
ezPC™ Polycarbonate is an excellent choice for printing parts that would ordinarily fail when using standard materials such as PLA, PETG, or ABS. We consider this an excellent bridge in performance between these lower performance materials and higher priced materials such as Ultem or PEEK.
Benefits of ezPC Include:
Low warp, high heat resistance, and excellent mechanical properties
Ease of use on a wide array of printers, no heated chamber needed!
High thermal properties with a Tg of 118°C and HDT of 112°C
Superior thermal properties vs. PLA, PETG, ABS, and ASA
No odors or hazardous fumes while printing making it ideal for a home or office environment
Perfect for functional end-use parts as well as prototypes
Excellent adhesion to our AquaTek™
Filament Specifications:
1.75mm and 2.85mm +/- 0.05mm in diameter
Recommended Print Settings:
Extruder: 255-275°C
Bed Temp: 90-110°C
Fan Speed: No fan
Bed Prep:

 

Magigoo Bed Prep Adhesive gives best results
Heated Chamber: Not required
Print Speed: 40-60mm/s
Supports: Water soluble

 

AquaTek™ X1 USM

 

works great for complex parts.
Drying Instructions: 80°C for 4+ hours.
Please note that this material absorbs moisture after opening from the package and may need to be dried for optimal printing. If drying is necessary, please dry at 80°C for a minimum of 4 hours.