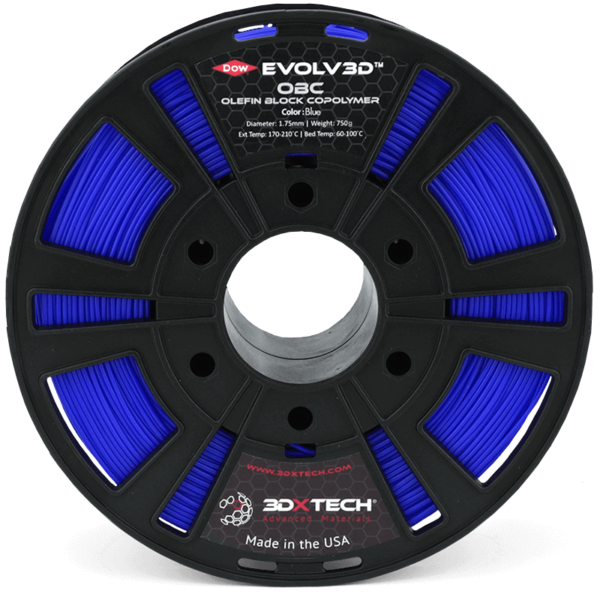 EVOLV3D™ OBC POLYETHYLENE COPOLYMER FILAMENT ( NZ Stock)
Sale
Sale
Original price
$89.00
-
Original price
$89.00
Evolv3D™ OBC Polyethylene Copolymer 3D Printing Filament
Evolv3D™ OBC (Olefin Block Copolymer) from Dow is an engineering-grade material based on a novel polyethylene copolymer. 
OBC is the state-of-the-art in polyethylene 3D printing and eliminates many of the problems associated with printing polypropylene-based materials.  OBC is semi-crystalline and has excellent chemical resistance coupled with ease of printing and real-world functional properties. 
Low Density:  The reel contains 750g of filament, but based on the low density of OBC, this is the same amount of filament that would typically be on a 1kg reel of ABS.  This allows you to print light-weight and exceptionally durable parts for medical, drones, watercraft, automotive, or any application that would benefit from a light weight chemically resistant material. 
OBC stands for Olefin Block Copolymer, which is an unusual material within the world of 3D printing. It's a proprietary blend of plastics that makes OBC easy to print and grants it some chemical resistance and flexibility. This blend has very low density without sacrificing strength and toughness. Density gets tricky when it comes to filament that's available by weight, and in OBC's case, it means that 100 meters of filament will weigh 30% less than 100 meters of PLA or PETG filaments. OBC has a density of 0.9 grams per cubic centimeter whereas PLA has a density of 1.2 grams per cubic centimeter.
That means that a 350 gram spool will print as many parts as a 500 gram spool of PLA or PETG - despite their different weights, they both have around 320 meters of material on the spool. What this all means is that parts 3D printed in OBC will float on water without even trying.
Flexible Yet Rigid
OBC has a low flexural modulus which means OBC offers flexibility that other filaments just can't match. Its extreme fatigue resistance allows you to print things like living hinges that can be repeatedly exercised back and forth without fatigue. OBC's mechanical properties can be tuned through specific design applications - that is: flexible when thin but can be stiff when printing thicker cross sectional area parts. In the end, OBC's uniqueness as a material is that functional parts can be designed with sections that are tough and rigid, but have a flip closed lid that's all part of the same 3D print.
PRICE SAVING in bulk - We can do bulk packs in 5 or 10, please

 

email us

 

for a quote
We manufacture this filament at our factory in Grand Rapids, MI using premium Dow Evolv3D™ OBC resin and custom colorants specifically formulated for 3D printing.
Product Attributes Include:
Excellent Z-axis bonding
Very low density (0.9 g/cm3)
Outstanding chemical resistance 
No water pick-up - no drying needed
Ease of printing - low warp / curling
Flexibility and fatigue resistance allows for printing living hinges
Low odor - essentially none
Chemical Resistance:
Filament Specifications:
Diameter:  1.75mm,
Reel weight:  +/- 5%
Recommended Print Settings:
Extruder temp:  170-210

°C

Bed temp:  60-100

°C

Bed prep:  Packaging tape (PE or PP based) is an excellent low-cost option, Magigoo PP Bed Prep
Enclosed build chamber:  23-60°C.  Although not 100% necessary, an enclosed print chamber will help ensure more successful printing
Other:  Recommended to print with brim or raft until you become comfortable printing with OBC.  We also recommend the use of a cooling fan (20-50%).  Print speed is generally 30-50mm/s.  
Evolv3D™ is a trademark of The Dow Chemical Company