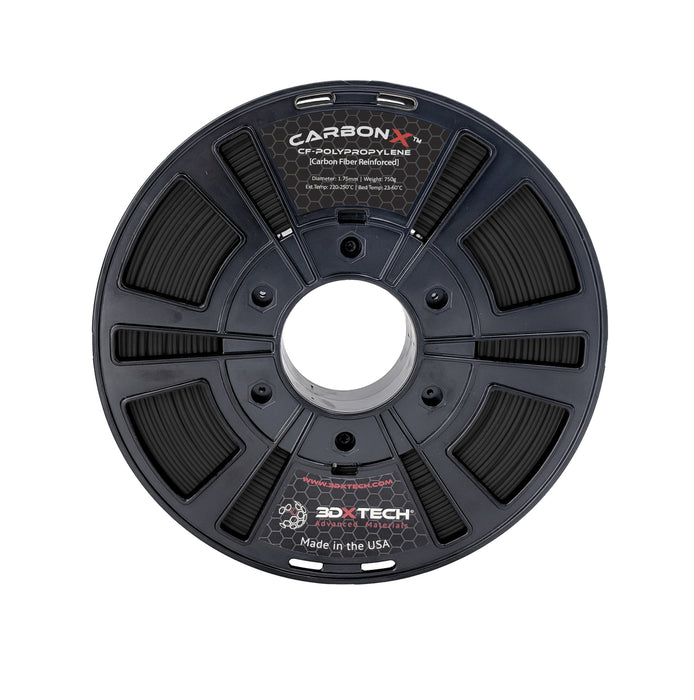 CARBONX™ PP+CF [POLYPROPYLENE] ( NZ Stock)
Sold out
Original price
$59.00
-
Original price
$59.00
Availability:
Out of stock
CarbonX™ Carbon Fiber Reinforced Polypropylene (PP) 3D Filament
CarbonX™ CF-PP is made using a specialty formulated polypropylene copolymer reinforced with high-modulus chopped carbon fiber.  This filament is based on a patent-pending formulation that offers improved thermal properties and low shrinkage/warp compared to competitive PP-based compounds.  
PRICE SAVING in bulk - We can do bulk packs in 5 or 10, please

 

email us

 

for a quote
Product Attributes:
Does not absorb moisture 
Excellent chemical resistance
Low density/light weight 
High strength and stiffness
Ease of printing - suitable for use on practically any 3D printer
Carbon fiber reinforced filaments are abrasive and will easily wear out a brass or aluminum nozzles.  We highly recommend our  hardened steel nozzles when printing with carbon or glass fiber materials
Chemical Resistance:
Acids: Acetic, Boric, Hydrochloric, Phosphoric, Stearic, Sulfuric, Uric
Bases: Hydroxides of Ammonium, Barium, Calcium, Magnesium, Potassium, Sodium
Solvents:  Acetone, Ethanol, MEK, Phenol (10%), Water
Note:  Chemical resistance information is for the base resin used in formulation and customers are encouraged to test parts to determine fitness for any particular use.
Recommended Print Conditions:
Extruder:  220-250°C depending on printer
Bed Temp:  23-60°C
Bed Prep:  Magigoo PP, Packaging Tape (PP-based)
Hardened Nozzle: 0.4mm or larger.  
Layer Height:  Ideal layer height is 60% of nozzle diameter.  We do not recommend printing layers below 0.25mm with carbon fiber grades.  Lower than 0.25mm may create too much back pressure in the hot end and result in poor feeding, jams, drive gear clicking, and eating a notch into the filament.